---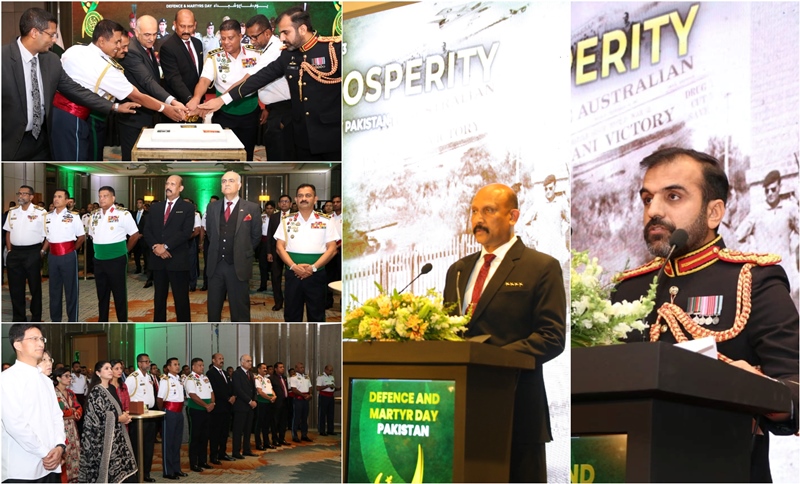 High Commission of Pakistan, Colombo (Sri Lanka) organized a reception to celebrate 58th Defence Day of Pakistan at a hotel in Colombo on 7th September 2023. Sri Lanka's Secretary of Defence, General (Retd) GDH Kamal Gunaratne WWV RWP RSP USP ndc psc, graced the occasion as the Chief Guest.
Defence Advisor of Pakistan, Colonel Muhammad Farooq Bugti, while welcoming the guests, highlighted the indomitable spirit & sacrifices of Armed Forces in defending the motherland against a three times large adversary in 1965. He also underscored the role of Armed Forces in eliminating the scourge of extremism and terrorism from Pakistan and bringing peace and stability in the country. The Defence Advisor reiterated that Pakistan Armed Forces are fully prepared to thwart any aggressive design against Pakistan while upholding principles of peace and diplomacy.
High Commissioner of Pakistan H. E Major General (Retd) Umar Farooq Burki, HI (M) thanked the respected guests for attending the reception. In his remarks H.E said that 6 September, the Defence Day of Pakistan holds a significant place in the history of Pakistan, for it was on this day in 1965, when valiant Armed Forces and the entire nation stood united to thwart the nefarious design of their adversary. It also reminds the supreme sacrifices made by the armed forces and the people of Pakistan in defeating an adversary who enjoyed overwhelming numerical and technological advantage.  He also paid homage and tribute to Martyrs (Shuhada) and Ghazis, brave men and women of our Armed Forces of Pakistan. He emphasized that the world has also witnessed the resolve of Armed Forces of Pakistan in a protracted fight against terrorism and bringing peace and stability in the country. He underscored that the Armed forces of Pakistan and the nation renew its pledge and commitment to defend every inch of the motherland.
On Pakistan-Sri Lanka friendship, High Commissioner highlighted that the relationship between the two countries are time tested and gained strength in all spheres and domains over the years. He highlighted that more than 7000 officers and soldiers from Sri Lankan Armed Forces have been imparted training by Pakistan Armed Forces besides provision of military hardware and equipment to Sri Lankan Armed Forces at the time of need. He added that the relationship between the countries are getting stronger by each passing day.
General (Retd) GDH Kamal Gunaratne Secy Defence said that Pakistan has been a true friend of Sri Lanka. He recalled that Pakistan has rendered unconditional support to Sri Lanka for the elimination of the most ruthless terrorist outfit in the world. While underscoring strong relations between the two countries, he said that a friend in need is a friend indeed. The Government and people of Sri Lanka will never forget the morale and material support provided by Pakistan without any strings/ conditions attached with it. He added that Pakistan and Sri Lankan Armed Forces have maintained close cooperation, especially in domain of military training and hardware at the time of need. He wished a sustainable peace and economic prosperity to people of Islamic Republic of Pakistan who have rendered countless sacrifices in last twenty years against terrorism.
A short documentary highlighting the professionalism and sacrifices of Pakistan Armed Forces to defend the motherland was also displayed for the audience. Later on, a cake commemorating the Pakistan Defence Day was jointly cut by Chief Guest, the Secretary Defense, Chief of Defense Staff, Commanders of Tri-Services, High, DG SIS, Commissioner of Pakistan and Pakistan Defense Advisor.
The reception was attended by General Shavindra Silva, Chief of Defense Staff, Lieutenant  General Vikum Liyanage, Commander of Sri Lanka Army, Vice Admiral Piryantha Perera, Commander of Sri Lanka Navy, Air Marshal R A U P Rajapaksa, Commander of Sri Lanka Air Force,  DG SIS, Ambassadors/ High Commissioners from friendly nations, Senior Serving and Retired Officers of Sri Lankan Armed Forces, Defense Advisors/ Attachés, Officers of Pakistan High Commission, a large number of guests from different spheres of life and representatives of media.
***********
---