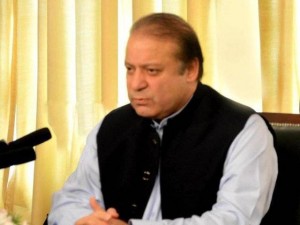 Nawaz Sharif pledged that terrorists would be made accountable for every drop of blood of martyrs.
Prime Minister Muhammad Nawaz Sharif pledges his government will not allow the terrorists to resurface and play with the lives of people.
In his address to the nation over radio and television networks, he said some remnants of terrorists are attacking soft targets like educational institutions and public parks to hide their failure and despondence.
The Prime Minister said terrorist leaders and their facilitators cannot escape the clutches of the law, no matter where they are hiding or in whatever disguise.
Muhammad Nawaz Sharif said the public resolve and faith are boosting the government's morale and "Insha Allah, we will carry forward our mission to make Pakistan a cradle of peace, progress and prosperity.
He made it clear that spreading lawlessness through arson, anarchy, damaging government property and creating problems for people in the name of Islam and Prophet Muhammad, Peace Be Upon Him, is unacceptable.
He lamented that no one during the past 13 years had dared to confront the menace of terrorism and it was his government that challenged the terrorists after coming to power and launched Operation Zarb-e-Azb.
The Prime Minister said our armed forces, police and civil security institutions offered great sacrifices in the fight against terrorism. But the mission to completely efface the cancer of terrorism will continue.
He said the Lahore terrorist attack has strengthened the government's resolve to eliminate terrorism at all costs.
The Prime Minister said terrorism has become a global challenge, not only for Pakistan but also the entire world. Such wave of terrorism had recently been seen in Ankara, Istanbul, Brussels and Paris.
He said we have also pledged to fight poverty, illiteracy, backwardness and ignorance and make Pakistan a prosperous state.
The Prime Minister appealed to media to continue raising the nation's voice against extremism and terrorism, so that the destination of peace and tranquility could be achieved.