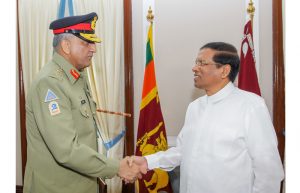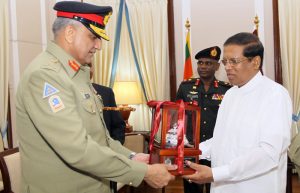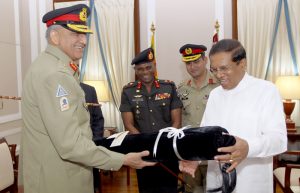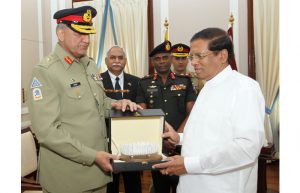 Pakistan's Chief of Army Staff (COAS), General Qamar Javed Bajwa currently in Sri Lanka on a goodwill tour at the invitation of his Sri Lankan counterpart Lieutenant General Mahesh Senanayake, Commander of the Army paid a courtesy call on HE the President Maithripala Sirisena, Commander-in-Chief of the Armed Forces at the Presidential Secretariat in the company of his host, Commander of the Army on 17th January 2018.
HE the President Sirisena extended a warm welcome to the visiting Army Chief of Pakistan before he began a formal courtesy meeting with him, in which both the President and the visitor refreshed the memories of sound relations that have been existing between both nations. President Sirisena also gratefully acknowledged Pakistan's provision of timely emergency assistance to Sri Lanka whenever required and underlined the importance of maintaining the status-quo as friendly South Asian neighbours.
Towards the culmination of the courtesy meeting, Pakistan's visiting COAS awarded a special memento to the President as a symbol of goodwill and cherished memories. The gesture was reciprocated. Dr. Shahid Ahmad Hashmat, High Commissioner for Pakistan in Sri Lanka, Lieutenant General Mahesh Senanayake, Commander of the Army and Colonel Sajjad Ali, Defence Advisor to High Commission of Pakistan were associated during the audience with the President.
(Courtesy: Sri Lankan Army)