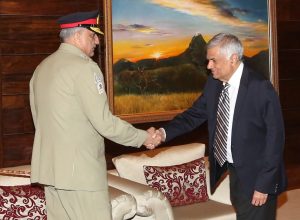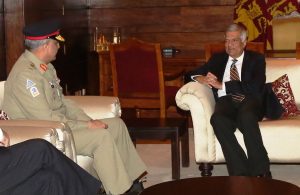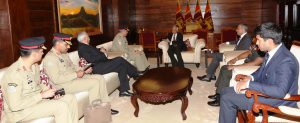 The visiting Pakistan's Chief of Army Staff (COAS), General Qamar Javed Bajwa on Wednesday (17th January 2018) had a courtesy audience with Hon Prime Minister, Ranil Wickramasinghe at Temple Trees.
During the courtesy meeting with the Prime Minister, both of them exchanged greetings and views on matters of bilateral importance with special focus on South Asian region and its growth as an economic hub.
Towards the end of the meeting, the visiting Army Chief extending his greetings presented a memento to Hon. Prime Minister.
Hon Minister Sagala Ratnayaka, Ministry of Law and Order and Southern Development, High Commissioner of Pakistan to Sri Lanka, HE Dr. Shahid Ahmad Hashmat, Lieutenant General Mahesh Senanayake, Commander of the Army, Brigadier Iftikar Hassan Chauhadary, Personal Secretary to the COAS and Colonel Sajjad Ali, Defence Advisor to High Commission of Pakistan were also associated with the courtesy meeting at the Prime Minister's office.
(Courtesy: Sri Lankan Army)