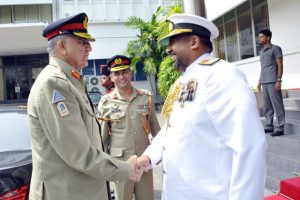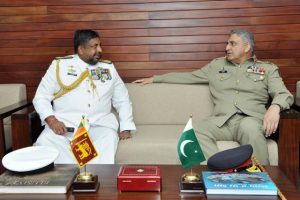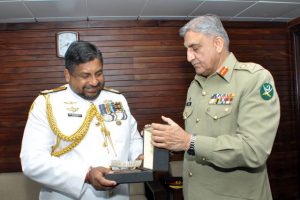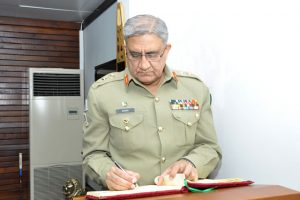 Pakistan Chief of Army Staff(COAS), General Qamar Javed Bajwa Nishan-I-Imtiaz called-on the Chief of Defence Staff Admiral Ravindra C. Wijegunaratne today (16th January, 2018).
The meeting between the two senior military officials were held at the Office of the Chief of Defence Staff (OCDS) at Bauddhaloka Mawatha, Colombo.
General Qamar Javed was accompanied by Brigadier Iftikar Hassan Chauhadary, Personal Secretary to COAS, and the Defence Adviser to Pakistan Lieutenant Colonel Sajjad Ali.
A cordial discussion was held between the two officials on matters of bilateral defence cooperation, especially training of tri-services personnel. Following the discussion mementos were exchanged signifying the event.
General Qamar Javed is currently on a three day official visit to the island.
Qamar Javed Bajwa, Nishan-i-Imtiaz (Military) was born in Karachi on 11 November 1960. He was commissioned in Baloch Regiment (Infantry) on 24 Oct 1980. The General Officer is a Staff Course graduate of Canadian Force Command and Staff College, Toronto and holds a Masters Degree in War Studies from National Defence University, Islamabad.
His staff assignments include Brigade Major of an Infantry Brigade, General Staff Officer Grade-1(Plans) and Chief of Staff of a Corps. He has served on deputation to Saudi Arabia for a period of three years and has remained Commander and SPAO of Pakistan Contingent to UN Mission in DR Congo. Before taking over the command of Pakistan Army, he served as Inspector General Training & Evaluation and oversaw the evolution of Pakistan Army's operational and training doctrine. He assumed the office of Chief of Army Staff on 30 November 2016.
(Courtesy: Office of the Chief of Defence Staff, Sri Lanka)