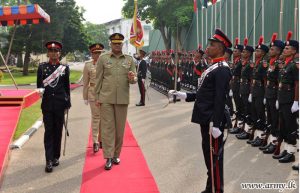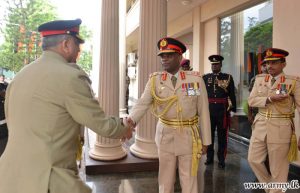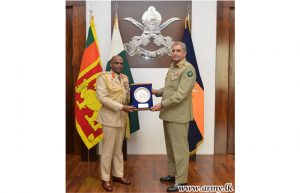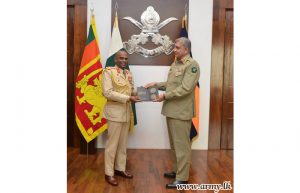 Military salutes, including a Guard of Honour and a Guard Turnout formally greeted General Qamar Javed Bajwa, Chief of Army Staff (COAS) of Pakistan Army who is in Sri Lanka on a goodwill tour at the invitation of his Sri Lankan counterpart when he visited the Army Headquarters Tuesday (16) morning to meet his Sri Lankan counterpart.
An elegant and colour-rich Guard of Honour at the Army Headquarters presented arms and extended honours to the visiting Army Chief on arrival in accordance with military traditions after a formal military Guard Turnout greeted him.
Afterwards, Senior Army Officers, including Chief of Staff, Major General Amal Karunasekara, Deputy Chief of Staff, Major General Dampath Fernando and all other Principal Staff Officers were introduced to the visiting Army Chief by the Commander of the Army, Lieutenant General Mahesh Senanayake at the entrance to the Commander's Secretariat before he was ushered to the office of the Commander.
During the cordial meeting that ensued, both General Qamar Javed Bajwa and Lieutenant General Mahesh Senanayake shared views on several current issues that are relevant to both organizations. Brigadier Iftikar Hassan Chauhadary, Personal Secretary to COAS and Colonel Sajjad Ali, Defence Advisor to High Commission of Pakistan were also present.
Discussions were largely centred on ongoing training programmes for Sri Lanka Army Officers and possibilities of further enhancement of training openings. Exchange of mementos as symbols of memory and goodwill took place towards the end of the interaction.
A few minutes later, Lieutenant General Mahesh Senanayake invited the visiting Pakistan's Army Chief for a brief discussion, where he received a briefing on current roles and tasks of the Sri Lanka Army. Major General Dananjith Karunaratne, Director General General Staff was associated with the briefing.
Towards the end of the interaction, the visiting Army Chief was invited to leave memories by signing the VIP visitors' book at the Commander's Office.
A group photograph with both Army Chiefs, visiting delegates and Principal Staff Officers of the Army brought the formal visit to an end. The visiting COAS is scheduled to pay courtesy calls on Commanders of the Navy, Air Force and the Chief of Defence Staff before he pays courtesies to HE the President and Hon Prime Minister on Wednesday (17). He will also visit the Defence Services Command and Staff College (DSCSC) at Sapugaskanda later on Tuesday (16).
Here follows the brief profile of the visiting Pakistan's Army Chief;
Qamar Javed Bajwa, Nishan-i-Imtiaz (Military) was born in Karachi on 11 November 1960. He was commissioned in Baloch Regiment (Infantry) on 24 Oct 1980. The General Officer is a Staff Course graduate of Canadian Force Command and Staff College, Toronto and holds a Masters Degree in War Studies from National Defence University, Islamabad. He has attended various Inland and Foreign professional courses, including Senior Officers Defense Management Course at Naval Post Graduate University, Monterey (California) USA. The General has commanded his parent Battalion and an Infantry Brigade. He has held command of Force Command Northern Areas, 10 Corps and has been Commandant School of Infantry & Tactics, Quetta.
General Bajwa has broad instructional experience at prestigious army institutions including School of Infantry and Tactics, Command and Staff College and National Defence University, Islamabad. His staff assignments include Brigade Major of an Infantry Brigade, General Staff Officer Grade-1(Plans) and Chief of Staff of a Corps.
He has served on deputation to Saudi Arabia for a period of three years and has remained Commander and SPAO of Pakistan Contingent to UN Mission in DR Congo. Before taking over the command of Pakistan Army, he served as Inspector General Training & Evaluation and oversaw the evolution of Pakistan Army's operational and training doctrine. He assumed the office of Chief of Army Staff on 30 November 2016.
The General belongs to a family with strong military background. He received his school and college education at Rawalpindi. He is married and blessed with two sons. He is an avid reader and enjoys golf, hunting and swimming. He has travelled widely across the world and is a keen student of world cultures and civilizations.
(Courtesy – SL Army)