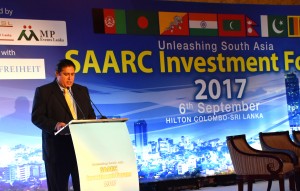 I would like to felicitate organizers of this forum for this wonderful event that presents a valuable opportunity to learn from regional experience. Investment agencies of the SAARC member states can learn from the experience of each other and adopt best practices in attracting FDI.
During the last ten years, Pakistan has attracted low FDI as compared to the size of its economy and peers. The two major reasons were Security situation and Energy deficit. However the situation has changed quite dramatically in the last three years. Security has improved incredibly while energy supplies have improved.
Now I would like to underscore some of the features that truly depict the economic and investment situation in Pakistan:
Pakistan grew by 5.3% during the financial year 2016-17 which was highest in the last ten years and is poised to grow by 6% this year.
Energy Supplies has increased in last two years. Pakistan has built LNG terminals to augment domestic Gas supply network. Now Pakistan is emerging as one of the biggest importers of LNG in Asia. This has eased energy supplies to the Industry.
On power front, work is in final stages for completion of more than 10,000 MW projects of electricity. Much has already seen released into system.
Tremendous countrywide investments are being made to improve the quality of infrastructure and trade related connectivity to reduce inefficiencies. I would come to some of its details at the end.
With essential ingredients of growth in shape of Security, Energy and fast and efficient connectivity available, the software of growth i.e. Enabling environment and a responsive Government has worked well for Pakistan in the last two years.
Now I would like to share some of the highlights of results in last one year: 
Foreign Direct Investment:in the first month of the current fiscal year, i.e. July 2017, FDI has posted substantial growth of 163 percent to $222.6 million as compared to $84.7 million invested during the same period of the previous fiscal year. During the last fiscal year FY17 overall volume of investment was 2.41 Billion US Dollars. Pakistan is expecting to attract FDI of 3-4 Billion USD in the ongoing Fiscal year that will be a more than 50% growth over a year.
Dairy & Livestock:In Dairy sector, Dutch company FrieslandCampina Pakistan BV (FC Pakistan) has completed its acquisition of a majority stake in Engro Foods at an estimated price of $446.81 million and the company is expected to bring in expertise and introduce new products.
White Goods: Arcelik AS, a Turkish company and a global leader in the home appliances industry, has invested an amount of $258 million for acquisition of Dawlance, Pakistan's market-leading home appliance brand, as part of its global expansion into high-growth opportunity markets.
Telecom Sector: Axiata's infrastructure arm, EDotco Group Sdn., has announced an agreement to purchase telecom towers valuing at about $1 billion USD. The purchase of about 13,000 towers will make Edocto the biggest independent telecommunications tower operator in Pakistan.              
Auto Sector: Al-Haj Faw Motors has started assembling Chinese passenger car, FAW V2 hatchback in Pakistan with the aim to export it to China and other markets. First locally assembled Chinese passenger car, FAW V2 is available in Pakistan since August 2017. Nissan and Renault are also in advance stages of setting up assembly units. This will create a very vibrant market for spare parts in Pakistan.
CPEC 
I am sure all of you are aware of a grand connectivity and trade project i.e. China Pakistan Economic Corridor. The thrust of the project is to integrate the regional trade and commerce for benefit of all the South Asian, Central Asian and Middle Eastern region. The project envisages unprecedented investment of US$ 61 Billion over a period of next 10 years. As a result, Pakistan would not only be the regional economic and connectivity hub but would also throw up innumerable opportunities for investments in diverse fields.
In addition to Pakistan, CPEC would immensely benefit Afghanistan as the transit country that will open up entire Central Asian and Russian markets to the entire region. The Corridor is being completed at a very rapid pace. It is high time that all South Asian countries have a deeper look at the emerging investment opportunities which would end up in best return on investments.
Thank you.