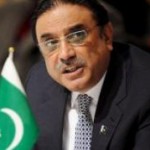 Asif Ali Zardari says Pakistan will continue to extend full cooperation to the international community for world peace.
In a message' on the occasion of UN Day today he said we are also partners with the United Nations in its activities for the welfare of the international community.
In his message' Prime Minister Raja Pervez Ashraf said Pakistan has made valuable contribution to peace and security of the world by sending its peace-keeping troops to conflict zones around the world.