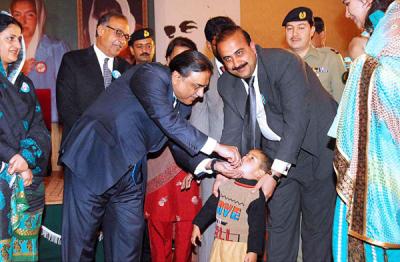 Over 77 thousand vaccination teams will take part in the 3-day door-to-door anti-polio campaign 
President Asif Ali Zardari will launch next round of three-day national polio immunization campaign in Islamabad on Monday.
Ministers' Governors' Chief Secretaries' Secretaries of Health' parliamentarians and representatives of international partner organizations will also participate in the event to be held at Aiwan-e-Sadar.
The President will make a special appeal to people from all walks of life to support the cause and contribute to the goal of making Pakistan free of this disease.
The Prime Minister's Polio Monitoring and Co-ordination Cell will be overseeing the nation-wide campaign to ensure that targets set are met.
Spokesman of Prime Minister's Polio Monitoring Cell' Mazhar Nisar said an additional 9'679 vaccination teams will also work in the health facilities and clinics during the campaign.