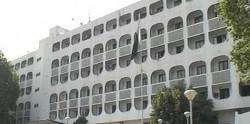 Pakistan expressing deep grief over the loss of five innocent Turkish civilians has condemned this reprehensible act of unproved cross border shelling.
The Foreign Office Spokesman in a statement said that Turkish Foreign Minister Ahmet Davutoglu phoned Foreign Minister Hina Rabbani Khar and apprised her of a serious violation of Turkish territory by the Syrian forces.
The Spokesman said Pakistan expressed full support and solidarity with Turkey in face of this grave incident and offered condolences to the families of the deceased and the Government of Turkey.