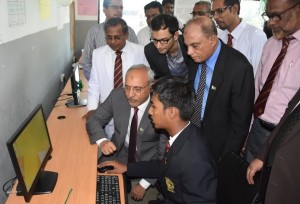 The Government of Pakistan has donated a fully equipped IT Lab comprising 15 computers and related equipment to Hameed Al Husseinie College in Colombo, today, through its High Commission in Sri Lanka. The new IT Lab will be used to impart diploma certificates in various IT fields to the students as well as old students of the college for increasing their skills and improving prospects for better employment opportunities.
The High Commissioner of Pakistan in Sri Lanka, H.E Maj. Gen. (R) Syed Shakeel Hussain inaugurated the Muhammad Ali Jinnah Computer Center along with President and Exco members of Sri Lanka Pakistan Friendship Association, representatives of the old boys Association of the college as well as College administration.
In his brief remarks during the ceremony, the High Commissioner emphasized the importance of Information Communication Technology in broadening the knowledge base of the students. He called upon the students to make maximum use of the facility to enhance their capabilities. He hoped that the computer skills and training acquired at the Ali Jinnah Computer Center will contribute towards younger generation's academic pursuits and will help in enhancing their nation building capabilities.
HE Shakeel Hussain expressed the hope that youth will use this facility as a bridge to knowledge, creativity, and innovation. He also reiterated Pakistan's continued support to Sri Lanka in enhancing younger generation's academic capacities with better educational facilities.
Other prominent speakers on the occasion included Mr Iftakhar Aziz, President Sri Lanka Pakistan Friendship Association, Dr Sarfaraz Ahmad Khan Sipra, Deputy High Commissioner of Pakistan, Mr Fazal Lafir, Dr Mehmood, M. Pathmasiri and Mrs Nisha Kareem.
The Hameed Al Husseinie College is the oldest Muslim college of Sri Lanka and it has a long history that is spreads over 130 years. It was established in November 1884 as Al Madrasathul Khairiyyathul Islamiah school. The school was officially granted college status in 1991, and was renamed Hameed Al Husseinie College. It was elevated to a National School on July 26, 1996.Presently, the school has an enrollment of over 2200 students, with 120 teachers as the instructional staff for the institution.
The Government of Pakistan, through its High Commission in Colombo has been assisting various social sector organizations in Sri Lanka, both in the public and private sector, through various projects relating to education, health, housing, livelihood generation, water supply and sanitation, vocational training and cultural promotion.
As part of this effort in Education Sector, the Government and people of Pakistan have, so far, Established over 35 computer centers throughout the Island, built state of the art schools, award of annual Jinnah Scholarships and fully funded professional scholarships in medicine, engineering, dentistry and pharmacy.
The relationship between Pakistan and Sri Lanka in education field will help the future generation to have better prospects in their future endeavors.