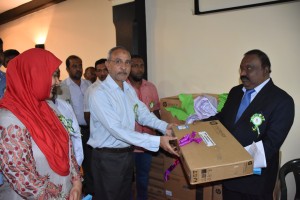 The Government of Pakistan has upgraded the Jinnah Computer Center at Jinnah Memorial Hall Kandy by donating 10 computers and related equipment through its High Commission in Colombo.
The High Commissioner of Pakistan in Sri Lanka Maj. Gen. (R) Syed Shakeel Hussain handed over the computers to the management of Jinnah Computer Centre in a ceremony. The members of Kandy Muslim Traders Association, Muslim League, management of the Jinnah Memorial Hall, students of Jinnah Computer Centre their parents and a large segment of media were present on the occasion.
While addressing on the occasion, the High Commissioner reiterated Pakistan's continued support to Sri Lanka in enhancing younger generation's nation building capacities with better educational opportunities. He stated that Pakistan has a number of world class Universities, with world renowned research facilities in the fields of particle physics, industrial chemistry, bio-technology, genetic engineering, information technology and management sciences etc.
The High Commissioner emphasized that Pakistan seeks to expand its cooperation with Sri Lanka in all fields and will also contribute in enhancing the skills of the Sri Lankan youth.
The High Commissioner also distributed Course Completion Certificates to the 46 successful students. The Jinnah Computer Centre has trained over 1000 students since its creation.
Jinnah Memorial Hall, Kandy was built in 1950 as a gift by the people of Pakistan to the people of Kandy. It is used for social gatherings, marriage ceremonies for low income families, library & training center.
This project would add to various socioeconomic projects by the Government and people of Pakistan for their Sri Lankan brethren in housing, health, education and livelihood sectors.
These projects includes construction of the School in Salam Baikulam in Vavuniya Town of the Northern Province, construction of a 3 storied state of the art school in Gampaha, water supply schemes, District Hospital Akurana, construction of houses, equipping science laboratories in schools, revival of handloom sector in Mirigama, Gampaha District to strengthen cottage industry and provide self-employment, 30 computer centers and 6 stitching centers, providing ambulances to hospitals, annual award of Jinnah Scholarships as well as Higher Education scholarships for study of medicine, engineering, dentistry and pharmacy in Pakistan.