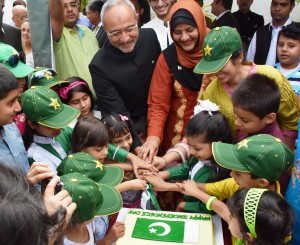 The High Commissioner of the Islamic Republic of Pakistan in Sri Lanka, Maj Gen (R) Syed Shakeel Hussain said that the brotherly and time tested relationship between Pakistan and Sri Lanka, having depth, breadth and diversity, serves as a beacon for other countries of South Asia.
The High Commissioner said this while delivering his message on the occasion of the 69th Independence Day of Pakistan today in Colombo.
HE Shakeel Hussain said that the Government of Pakistan is actively engaged with all neighboring countries in an effort to create a peaceful neighborhood and at the same time intensifying economic engagement with all friendly countries.
He underlined that we are celebrating our 69th Independence Day at a time when our country is entering into a new era of development, prosperity, peace and political stability as the Government and people of Pakistan are unanimous in their resolve to make Pakistan truly democratic, welfare and prosperous state.
On Pakistan-Sri Lanka relations, he explained that historical and cultural links between our two peoples date back to the time when the Indus Valley and Gandhara Civilizations prospered in what is now Pakistan. He further said that Pakistan and Sri Lankan are continuing to nurture their mutually beneficial relations in diverse fields.  He added that both countries are exploring ways to broaden and deepen the economic ties, through enhancement of trade and bilateral investments, within the framework of the Free Trade Agreement as our top most priority.
The High Commissioner highlighted that the H.E. President Sirisena's state visit to Pakistan in April, 2015, is a testimony to the fact that both countries attach great importance to this mutually beneficial relationship. He elaborated that during the visit both sides agreed to expand cooperation in the areas like higher education, industrial development, shipping, disaster management, peaceful use of nuclear technology and exchange of expertise in various areas of mutual interests.  The leadership's decisions are being followed up vigorously with exchange of high level delegations, he added.
HE Shakeel Hussain said that Pakistan and Sri Lankan face significant challenges, at the same time they have tremendous opportunities. This mutuality provides a wide canvas for both countries to help and support each other, in order to jointly overcome challenges and maximize opportunities, he added.
The High Commissioner also conveyed warm regards and best wishes from the government and people of Pakistan to the government and people of Sri Lanka.
Later, the messages of the President and Prime Minister of Pakistan were read out to the participants.
The High Commissioner also hoisted the national flag of Pakistan and cut Independence Day Cake with Children during the ceremony attended by a large number of participants from various walks of life including members of the Sri Lanka Pakistan Friendship Association, Pakistan Sri Lanka Business Council, prominent Sri Lankan personalities, Pakistani community and wide section of media.