Pakistan's Chairman Joint Chiefs of Staff Committee meets Sri Lankan President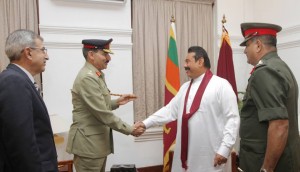 Colombo: April 8, 2014
Pakistan's Chairman Joint Chief of Staff Committee (CJCSC) General Rashad Mahmood called on Hon President of Sri Lanka H.E Mahinda Rajapaksa today at Temple Trees.
General Rashad had arrived in Sri Lanka last evening on his first overseas visit after taking over as CJCSC on the invitation of his counterpart General Jagath Jayasuria.
During the meeting, General Rashad Mahmood conveyed best wishes and warm regards from the President and Prime Minister of Pakistan, to President Mahinda Rajapaksa,as well as Government and people of Sri Lanka.
He said that Pakistan and Sri Lanka are historically bonded in a relationship of trust, mutual respect and deep friendship, which is reflected in the strong multifaceted relationship between the two countries. He also congratulated the President on winning the T20 Cricket World Cup.
He also appreciated the efforts of the Sri Lankan government in defeating the menace of terrorism from Sri Lankan Soil and reiterated Pakistan's continuous and unflinching support to Sri Lanka at all forums.
President Mahinda Rajapaksa strongly appreciated the all out support extended by the Government of Pakistan to Sri Lanka during the recent session of UNHRC. He said Pakistan has proved to be a true friend of Sri Lanka and the Sri Lankan government as well as the people have deep affection for Pakistan.
President Mahinda Rajapaksa also acknowledged Pakistan's support during Sri Lankan war against terrorism and said that Pakistan's support during the three decade internal conflict has immensely helped in the elimination of terrorism from Sri Lanka.
The Chief of Defence Staff Sri Lanka Gen. Jagath Jaysuriya and the High Commissioner of Pakistan Maj. Gen. (R) Qasim Qureshi were also present on the occasion.
The CJCSC also called on Hon. Minister for External Affairs Sri Lanka, Prof. G.L. Peiris. The Minister also greatly appreciated Pakistan's support during the UNHRC session and briefed the General on various developments related to the UNHRC process in Geneva. Other issues of mutual interest also came under discussion. It was agreed that the economic relationship between the two countries need to be further expanded and strengthened.
Earlier in the day, the CJCSC called on his counterpart Gen. Jagath Jaysuriya, Chief of Defence Staff Sri Lankan Armed Forces. They reviewed ongoing defence collaboration, beside identifying new areas to further deeper and broaden the already strong defence relationship.
General Rashad also visited the War Memorial and laid wreath to honour all those who sacrificed their lives during the long struggle against terrorism.