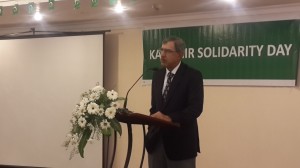 The Pakistani expatriate community in Sri Lanka organized an event in Colombo last evening to express support for the Kashmiri people on the occasion of Kashmir Solidarity Day falling on February 5, 2014.
The event was attended by a large number of local people and members of the Pakistani community based in Sri Lanka. The High Commissioner of Pakistan in Sri Lanka H.E. Maj Gen ® Qasim Qureshi also attended the event. In his remarks he appreciated the efforts of the Pakistani community for organizing the event, and thanked the local people for taking interest in the Kashmir Issue and expressing solidarity with the Kashmiri people.
He added that the Kashmir issue was not just an issue between India, Pakistan and the Kashmiri people, but it was a regional as well as an international issue. This being so, because the benefits of its resolution, as well as the adverse effects of its non resolution will be felt regionally and internationally. He also said that the Kashmir issue is more relevant today, as it involves the principle of self determination and human rights of the Kashmiri people, and the International Community is far more conscious of these principles today, than it was any time in the past.
The High Commissioner noted that Pakistan is seeking a non zero sum and peaceful resolution of the Kashmir Dispute through meaningful talks with India. He said that a solution that is acceptable to all stake holders will be most durable and beneficial for the entire region.        
He noted that Kashmir issue is the main stumbling block in making SAARC more effective. He added that integration of regional economies was the best way for economic growth in this age of globalization. ASEAN and EU are good role models for other regions to achieve accelerated economic growth and social progress for member states. SAARC, if made more effective could also become an engine of growth for South Asia, which will be possible only after the resolution of the Kashmir Dispute.
Senior journalist, Analyst and Deputy Editor of the famous Sri Lankan newspaper Sunday Times, Ameen Izzadeen recalled the genesis of Kashmir issue in his speech on the occasion and said that the UN resolutions, which calls for a plebiscite on Kashmir, warrants attention of the International Community. He called for efforts to internationalize the Kashmir issue for its early resolution.
While speaking on the occasion, Babar Tahir, a member of the Pakistani expatriate community, said that it is the obligation of International Community to ensure that the people of Kashmir get their right to self-determination in accordance with the UN resolutions.
The messages of the President and the Prime Minister of the Islamic Republic of Pakistan on the occasion of the Kashmir Solidarity Day were also read out to the audience by the Deputy Head of Mission, Ms Amna Baloch. A video clip and a photographic  exhibition related to the Kashmir situation was also seen by the participants.