Pakistan and Sri Lanka agreed to enhance level of Cooperation and Friendship
Colombo : April 4, 2013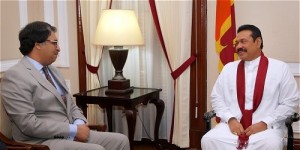 Pakistan and Sri Lanka held Foreign Secretary-level Bilateral Political Consultations in Colombo today. Foreign Secretary, Mr. Jalil Abass Jilani led the Pakistan side, while Sri Lanka was represented by Foreign Secretary Tilakaratne Amunugama during the talks. The talks focused on gamut of issues encompassing the entire spectrum of bilateral relations and the two sides had detailed exchange of views on a number of issues of mutual interest. It was agreed that the consultations should be held on a regular basis.
Appreciating the significant increase in bilateral trade since the signing of the Free Trade Agreement, it was agreed that taking advantage of mechanisms in place, efforts will be made to further explore new avenues of businesses and diversify the relation to include investments and services sector as well in future.
In addition to the existing fully-funded scholarships Pakistan offers to the Sri Lankan students in medicine, engineering, pharmacy and dentistry, the Foreign Secretary offered scholarships to Sri Lankan students in prestigious agricultural institute of Pakistan.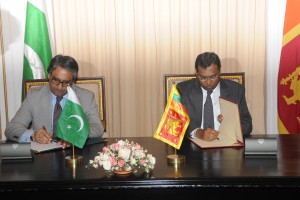 Following the talks, the two Foreign Secretaries signed a Memorandum of Understanding between The Lakshman Kadirgamar Institute of International Relations and Strategic Studies (LKIIRSS) and the Institute of Strategic Studies Islamabad (ISSL).
Earlier in the day the Foreign Secretary and his delegation paid a courtesy call on the Sri Lankan President Mahinda Rajapaksa at the President's Secretariat. During the meeting, Foreign Secretary Jalil Abbas Jilani conveyed the greetings and best wishes from the President of the Islamic Republic of Pakistan, Asif Ali Zardari, to the Sri Lankan President.